---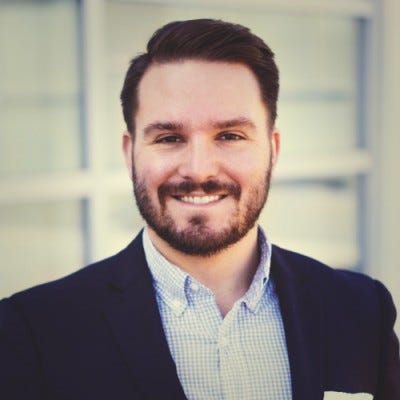 ---
Spotlight Quantalytix:
Quantalytix is a software platform that provides comprehensive risk analytics and balance sheet management for mortgage lenders. It delivers seamless, agile, analytics that gives customers an unfair advantage over the competition. The company believes that data and analytics are useless if actionable decisions cannot be made from it. With this, Quantalytix is on a mission to simplify and visualize key performance and risk metrics to help make organizations more profitable.
Meet Will Bryant, Co-Founder, Quantalytix
Will Bryant is a former banker turned tech founder. Alongside fellow former banker Christopher Aliotta, he helped to found Quantalytix back in 2016. The two took the company through Birmingham's Velocity Accelerator program as a member of its first cohort and have been growing ever since. Will focused mainly on business development and selling Quantalytix to different financial offices around the country. He is a proud graduate of Transylvania University where he was a member of the men's soccer team and is a native Nashvillian that now calls Birmingham home.
Welcome to the Stage, Will Bryant!
---
1. You come from a finance background professionally. What was the hardest part of the transition from working in finance to becoming a tech founder?
I think there are two parts to this question: First is the transition from finance to tech. Second is the transition to a founder.
For the former, the hardest part had to be getting up to speed with the lexicon of the industry. Being able to have technical conversations with prospects and peers felt somewhat like drinking from a firehose early on. Needless to say, I spent a significant amount of time educating myself on those technical areas.
As far as the transition to a founder, it was interesting going from a career focused on what will happen 5 to 10 years down the road to one focused on what will happen in the next month. Being able to look at a spreadsheet that says 'you may not be around in a year' and then micro-focus on other tasks was a bit difficult to stomach at first. Luckily this translated well to the broader life lesson of focusing on what you can control and not worrying about what lies outside of it.
---
2. Quantalytix has grown pretty steadily over the years. In terms of growing a team, what's the best advice you can offer to new founders when it comes to building a team?
Be crystal clear when it comes to expectation setting and as selective as possible when you hire. Your team ultimately defines the success of your company - both culturally and monetarily. By clearly defining how a new hire is specifically expected to play part in the success of your company, there is less room for misunderstanding, miscommunication, and unmet expectations.
When it comes to being selective, come up with values you think are important for your company (company values) and qualities relevant to the success of specific roles (think of Meyers Briggs or Enneagram). When you triangulate these with your company values, usually you have a solid framework for building a team.
---
3. Let's talk about Birmingham as a tech ecosystem. How has Birmingham contributed to Quantalytix's success? On the other end of that, what can be improved about Birmingham's startup ecosystem?
The Birmingham-Success question is always a bit tricky. It has worked for us but has not worked for quite a few of my peers. Generally speaking, Birmingham offers founders a significantly lower cost of living and has a much thinner membrane when it comes to getting in front of people.
On the other side of the question, there is certainly an ongoing dialogue on how the larger companies can partner with startups. There is a lot of investment capital and excitement for startups in the community but what people need to remember is excitement and capital typically fizzle out at some point. It's revenue and partnerships that create jobs, grow companies, and build ecosystems.
---
4. You lead the business development charge for your team. What have you learned from developing Quantalytix's biz dev efforts?
I've learned when you sign up for BizDev on the ground floor you do everything from scrub the floors to present in front of CEO's and CFO's at conferences. It's a role where the ability to be a generalist helps and will remain interesting if you have a natural curiosity for (most) things. Specifically, in the context of Quantalytix, it has been interesting to watch how it simply takes time and investment in relationships to build a reputation and gain trust. Trust is ultimately the most valuable resource you can possess so it's important to do everything you can to take care of it.
---
Happy Learning
-Sean